Thought I'd make a post especially dedicated to all the awesome contests happening in the world of blogging right now, especially when it comes to YA fiction.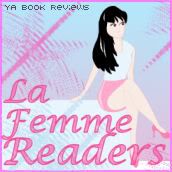 La Femme Readers is hosting two awesome international contests! Can I get a resounding "WHOOT" from all the Aussies? :P
Visit the above link to go straight to her awesome blog, or visit
here
for your chance to win one of several upcoming YA releases or
here
to have a chance at an ARC of Beth Fantaskey's "Jekyll Loves Hyde" (see my own review on Beth's other book, "Jessica's Guide to Dating on the Dark Side"). You can also click the link in my sidebar in order to view these contests :)
Also most certainly worth the peek is the blog "A Good Addiction" (reading books most certainly is!!). Check it out by clicking the below pic ;)
More awesome posts and contests there, too! Finding all these new book blogs and more books for me to read is really exciting! So head on over :)
Juciliciousss Reviews is also hosting a fantabulous giveaway of a box full of surprise goodies!!! How fun is that? If you would like a chance to win, head right over to this page right
here
.
Emma :D